Quality control and efficiency are important in any manufacturing environment and many industries now depend on machine vision systems to oversee their production. As a leader in vision technology, Papertech has assisted a diverse group of companies with our TotalVision™ solutions and now has installations in steel mills, textiles plants, printing production lines, and laminate machines. We continue to research new markets that can benefit from a TotalVision™ solution.
Laminates
Laminates include a wide range of surface materials for furniture, counters, flooring, and panels used in construction and decorating. Laminate is made up of melamine, decorative paper, and resin heat treated to form a durable finishing material most often seen in kitchen counter tops. The manufacturing process for laminate requires the same kind of quality control as the paper industry to avoid defects in the finished product. Papertech now provides TotalVision™ quality control systems to this growing sector of the machine vision industry.
This video from the Discovery Channel describes the laminate manufacturing process.
---
Diaper / Folding / Packaging Line Solutions
Also part of the nonwoven family of products are diapers and disposable hygiene products. TotalVision™ systems on diaper lines improve overall line efficiency by solving the root causes of process interruptions via synchronized visibility of the web across  all camera views. For more details on how our systems can be integrated on diaper lines, please download our Papertech Diaper Brochure (PDF), or contact us at info@papertech.ca.
---
Textiles
Unifi Manufacturing, Inc. is a leading producer of multi-filament polyester and nylon textured yarns and related raw materials. For a quality and process monitoring solution, Unifi needed something that could be moved around to different locations within the plant, but still provide all services they required to meet their criteria. The TotalVision solution was Papertech's MUVe cart, a portable full-feature web monitoring unit. Equipped with up to four high speed digital cameras and strobing LED lights, the unit offers:
Industrial stainless steel mobile cart
Air-less computer process mounted in a NEMA4x Jbox is affixed to the cart
Work platform for keyboard, mouse and 25" monitor
Termination connections for power and communication links
Storage for camera/light units when stored.
---
Metal
Papertech's TotalVision™ Steel Inspection System inspects hot-rolled steel for defects in real time, at the rolling stands. Web Inspection uses a unique combination of lights and filters to view hot steel as if it is at room temperature. Different blue LED lights are employed to look at a hot rolling steel bar.
Basic Features
Built to operate in hot-rolling mill environments, supporting a variety of products.
Early detection of rolled defects.
72 hours or more of inspection that can be reviewed billet by billet. This feature is hardware dependent.
Full communication with mill IT dystems.
Live real-time display of camera views on the production floor.
TotalVision™ for Sheet Finishing

Sheet finishing lines process metal coils used in the manufacturing of automobiles, food containers, appliances, and countless other products. Despite their considerable size and weight, these coils must meet high tolerances for many parameters including dimension, shape, and surface finish. For example, edge trimming is an important step to ensure the coil's edge is clean, uniform, and the coil's width is what the customer ordered. To produce high quality trimmed edges, it is important to have the right equipment in good working order.
For more details on TotalVision™ for metallurgical processing lines, please download our TotalVision™ for Metal brochure.
---
Non Woven
The term non-woven refers to a wide range of
products used in variety of applications. Examples include every day household items such as coffee filters and disposable vacuum bags to a range of medical products like surgical masks and packaging. Industrial products run the gamut from geotextiles used for errosion control and roadway construction to fibreglass insulation and roofing materials for the construction industry. In all these manufacturing processes, machine vision systems play a part in maintaining quality and efficiency.
Another non-woven product that relies on TotalVision in the manufacturing process is fiberglass matting. Detecting breaks and defects in this product is especially critical as waste or rejected output cannot be recycled. In this respect, TotalVision™ analysis not only makes economic sense for the customer, but also reduces waste.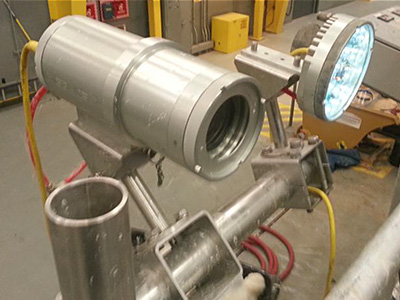 A webview camera and WebLED lighting interface with TotalVision™ to produce high-speed video footage. Here a frame is saved as an image.
---
Label Applications
Papertech's web inspection and monitoring is also used by label manufacturers for quality control and defect detection in printing, alignment, and uniformity of adhesive application. As always, the objective is to improve the overall equipment effectiveness (OEE) and prevent costly shutdowns for our customers.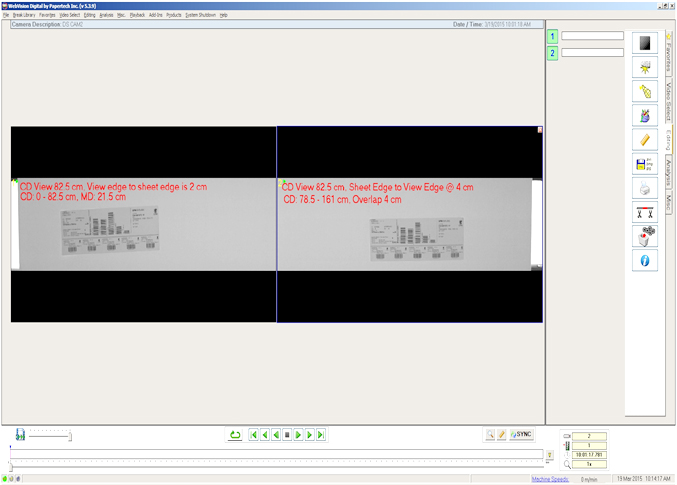 Label images produced by WebInspector cameras on beam.

A combination of  transmission and reflective lighting is used on the WebInspector beam on a poly film production line to produce the needed images and map for defects.